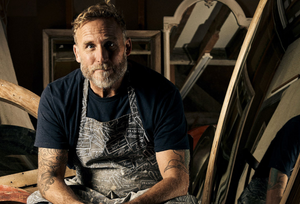 The Man Behind the Mirrors
Sean Phelan has spent his career perfecting the art of mirror gilding. From an apprenticeship with a master gilder to his thriving business today in the Cotswolds, his passion for the craft endures.
Meet Sean
Reflections
Silver, Blue or Bronze? Sean Phelan Mirror Gilding offers a range of unique mirrors, with beautiful handmade plates in a variety of colours, finishes and sizes.
Take A Look
Bespoke Gilding
Perhaps you have a special mirror or frame that needs some love, or are seeking a unique piece for your home? Sean can restore your treasured mirrors & frames to bring back their original beauty.
Discover More